TimeHelp-Software 1.6 FREE DOWNLOAD
Congregation part
(click here for personal part)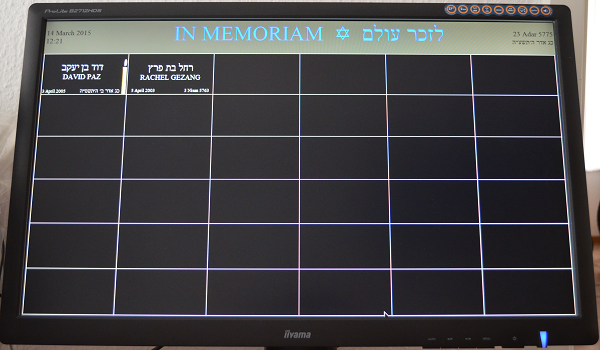 Features:
Individual design possibilities (e.g. count of cells for displaying of the next persons with Yahrzeit [6x6, 7x7, 8x8 or 9x9], fonts, background color)
Optional integrating webpages after clicking on a cell with information about the deceased person and/or his/her relatives - e.g. creatable via a word processor which can save documents in HTML format (Internet connection is not necessary since the webpages are loaded from the local PC)
Chooseable display direction from right to left or left to right
By pressing the f key, the program does not react to mouse clicks or touch screen taps anymore (useful for Shabbat and holidays); by pressing the f key again, the program reacts to mouse clicks or touch screen taps normally.
System requirements
Windows 10
16:9 landscape screen resolution of at least 1920x1080
Touchscreen optional
Download
The software can be downloaded free of charge at here. In order to install it, the downloaded program has to be started, and then the instructions have to be followed.
License agreement
This program is protected by copyright laws and may be copied and used free of charge.
The author is not liable for consequential, incidential or indirect damages of any kind which arise out of the use of the software.
---
Copyright © by David Greve 2009-2011
Copyright © by Ulrich Greve 2011-2018
E-Mail: shem@tichnut.de